Manufactured by TPL Plastech an ISO 9001 company, at its state of the art manufacturing unit are made of virgin material and available in material grades PE-63, PE-80 and PE-100 in range of 20mmOD to 280mm OD. in pressure range PN 2.5 to PN 16.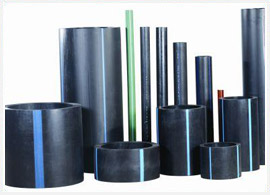 TPL plastech PE Pipes are capable of handling semi-solid & gaseous effluents and has unmatched resistance to corrosive chemicals. They are lighter, easy to handle & install compared to heavier metallic or concrete pipes.
TPL plastech PE Pipes are 100% leak proof therefore they are preferred over Galvanized, Ductile iron, Cement for applications such as portable water services or distribution lines, sewerage & drainage, cable ducting, natural gas distribution, irrigation, waste disposal, industrial application & offshore pipeline installation.
TPL Plastech PE Pipes are made with quality assurance system and strict adherence to IS: 4984, IS: 14333, IS: 14151, ISO: 4427, DIN 8074 design and testing code to match the quality of our products and services.
Application Areas
TPL plastech PE Pipes Joining Methods
TPL plastech PE Pipes can be joined by different means depending upon end use requirements. Some of the joining techniques (for permanent joints) are as follows
Butt Fusion Welding Joint (Widely used).
Socket Fusion Joint.
Electro Fusion Joint.